Create any documentation, online helper or user manuals almost immediately!
Webhelp / Windows help / PDF / eBook
Writing documentation
does not have to be complicated!
Boost your productivity by focusing only on writing
Help+Manual is powerful and intuitive tool with basic interface similar to other, common text editors you are probably familiar with..
You will learn how to handle it very fast so you can use true power of fully featured WYSIWYG XML editor.
One source – multi-platform output!
Do you need to access your documentation via different operating systems, desktop or mobile, Windows Helper or as a PDF? Help+Manual can easily publish your project to common text formats.
All supported outputs are generated from one single-source project, therefore if you need to update it – simply edit the source and click publish. Help+Manual will handle the rest for you.
This feature means much more than publishing the same information into different outputs. Using conditional formatting feature you can prepare numerous versions for various exports with no need for post-processing. All from one source.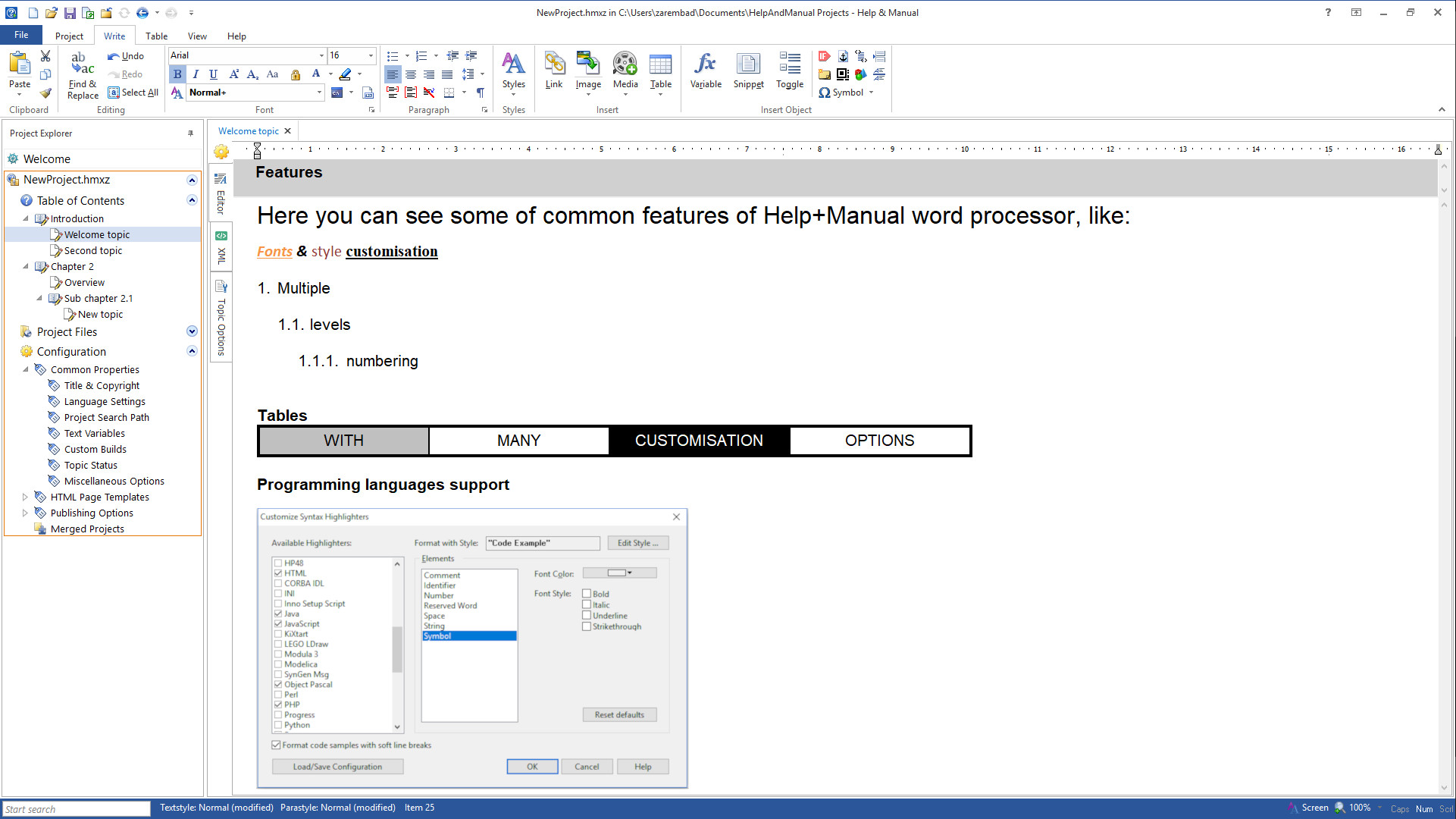 Advanced features for power users.
Help+Manual is not just an ordinary text editor, the opposite is true. It contains helpful features, for example:
multi-user editing
version control
CAT (computer assisted translation) tools compatibility
XML output support.
Working environment contains all commonly used features for text editing and formatting, even with dynamic styles and complex tables included.
These features, together with advanced output files editing means Help+Manual provides full support for creating multimedia and complex, modular projects.
Get instant access to all features and qualified customer support by acquiring the product licence.
Help+Manual advantages

1

 

Intuitive user interface

2

 

Multiple outputs from one source

 
 
 
 

3

 

Parallel multi-user editing

4

 

Advanced features and process automation
Help+Manual
Try 30-days' trial for free!
About us
 

KM Technology is official distributor of Help+Manual software in Slovak republic.

 

We provide professional training for Help+Manual users, whom we help to discover and fully utilize this tool's potential.

 

If you are looking for reliable and responsible partner in document processing or custom software development area, do not hesitate to

 

​

​

​